Nighttime ghost tours offer a perfect blend of history and spine-chilling tales.
Many cities host grand Halloween parades showcasing elaborate costumes and spectacular floats.
Attending a pumpkin festival is a great, family-friendly option to celebrate Halloween.
Amusement parks transform into Halloween wonderlands offering specially-themed attractions.
Visiting top haunted houses is a must for thrill-seekers looking for an intense scare.
Halloween is a festive time to travel and immerse in different cultural experiences. Engaging in unique Halloween-themed activities while traveling can bring extra excitement and adventure to your trip. Here are five thrilling activities to consider during your Halloween travels.
1. Join a Nighttime Ghost Tour
Nighttime ghost tours are quintessential Halloween activities that thrill-seekers and history enthusiasts love. They offer a perfect blend of intriguing history and spine-chilling tales that bring destinations alive in a mysterious and enchanting way.
Imagine walking through dimly lit streets, guided by a knowledgeable storyteller who shares captivating stories of spirits and apparitions that are said to linger in historic buildings and ancient landmarks. Each city has its haunted spots, shrouded in mystery and whispers of the supernatural. As you explore these haunted sites, you can't help but feel a sense of excitement and anticipation, wondering if you'll catch a glimpse of something otherworldly.
2. Participate in a Halloween Parade
Many cities host grand Halloween parades, showcasing elaborate costumes, spectacular floats, and live music. These parades are a feast for the eyes, with participants going the extra mile to create memorable, sometimes eerie, presentations.
Here are tips for participating in a Halloween parade:
Choose a Comfortable Costume
One of the key factors in enjoying the parade is selecting the perfect costume. It's important to opt for a costume that stands out and showcases your creativity and allows maximum comfort during extended wear. If the parade route is expected to be long, it's advisable to avoid bulky or restrictive outfits that could potentially cause discomfort or impede your movement, ensuring that you can fully immerse yourself in the festivities.
Know the Parade Route
Familiarizing yourself with the parade route can greatly enhance your overall parade experience. Take the time to check the parade's official website or local news sources for a detailed route map and schedule. Understanding the route allows you to plan your viewing spot accordingly and helps you anticipate the flow of the parade, ensuring that you don't miss any exciting moments.
Follow Parade Etiquette
Respecting the parade's rules and regulations is essential to ensure everyone can enjoy the festivities safely and harmoniously. Take the time to familiarize yourself with the specific guidelines, including any restrictions on certain costumes or props. Additionally, it's important to respect the barriers or designated areas set up by the parade organizers.
Stay Hydrated and Nourished
When taking part in a parade, it is important to prioritize your well-being due to the physical demands involved. To keep your energy levels up throughout the festivities, it's important to stay hydrated and nourished. Remember to pack a water bottle to ensure you have access to refreshments along the parade route. Additionally, consider bringing some energy-boosting snacks to keep you fully fueled and ready to embrace the celebration.
3. Attend a Pumpkin Festival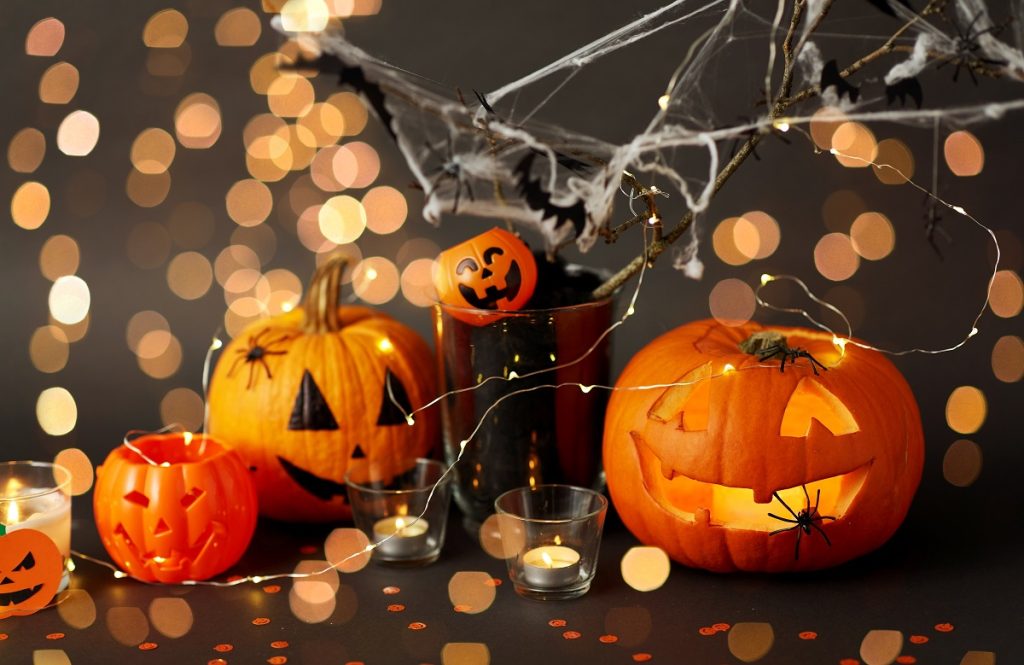 Pumpkin festivals are family-friendly events that celebrate all things pumpkin. From pumpkin carving contests to pumpkin-themed games and treats, these festivals delight all ages. It's an ideal environment to enjoy the Halloween spirit in a more playful and less scary setting.
Many pumpkin festivals also feature hayrides, corn mazes, and petting zoos, providing a full day of entertainment. These events capture the essence of fall, making them perfect for experiencing the season's charm while traveling.
4. Experience a Halloween-themed Amusement Park
Several amusement parks transform into Halloween wonderlands in October, offering specially-themed attractions. These parks feature haunted mazes, live shows, and scare zones, ensuring an adrenaline-pumping experience for visitors.
For a more family-oriented experience, look for parks that host trick-or-treating events and less frightening attractions designed for children. These themed parks provide a magical Halloween environment that is enjoyable for adults and kids, making them a must-visit during travel.
5. Visit Top Haunted Houses
Visiting top-notch haunted houses is a must for thrill-seekers looking for an intense scare. These attractions are crafted to terrify, with professional actors, elaborate sets, and chilling sound effects creating a convincing and horrifying atmosphere.
Many of these top haunted houses are located in historic or abandoned buildings, adding to the authenticity of the experience. Do a little research and select haunted houses renowned for their quality and safety measures, providing a frightening yet secure adventure.
Final Words
Halloween travel can be delightfully spooky, with a range of activities to choose from. Whether it's joining a ghost tour, participating in a parade, attending a pumpkin festival, experiencing a themed amusement park, or visiting top haunted houses, each activity offers a unique way to celebrate Halloween while exploring new destinations. Dive into the Halloween spirit and create unforgettable memories with these five recommended activities.